What is the RapidSOS Clearinghouse?
The RapidSOS Clearinghouse is a NENA i3 compliant Location Information Server (LIS) and Additional Data Repository (ADR) that is accessible to authorized Public Safety Answering Points (PSAPs), otherwise known as Emergency Communication Centers (ECCs), through integrations into all major call-taking equipment, mapping software & CAD products.
Through the RapidSOS Clearinghouse, PSAPs / ECCs can securely access device-based hybrid location information from enabled smartphones, without the need for the caller to use an app, resulting in faster and more accurate location than Phase 2 information currently available.
Zetron MAX Call Taking Integration
Whenever a wireless call is received, RapidSOS-enabled Zetron MAX Call Taking equipment will automatically query the Clearinghouse for supplemental location and additional data. The Clearinghouse will return the latest available known location from enabled smartphones. This location will be displayed alongside the ALI location, not as a replacement.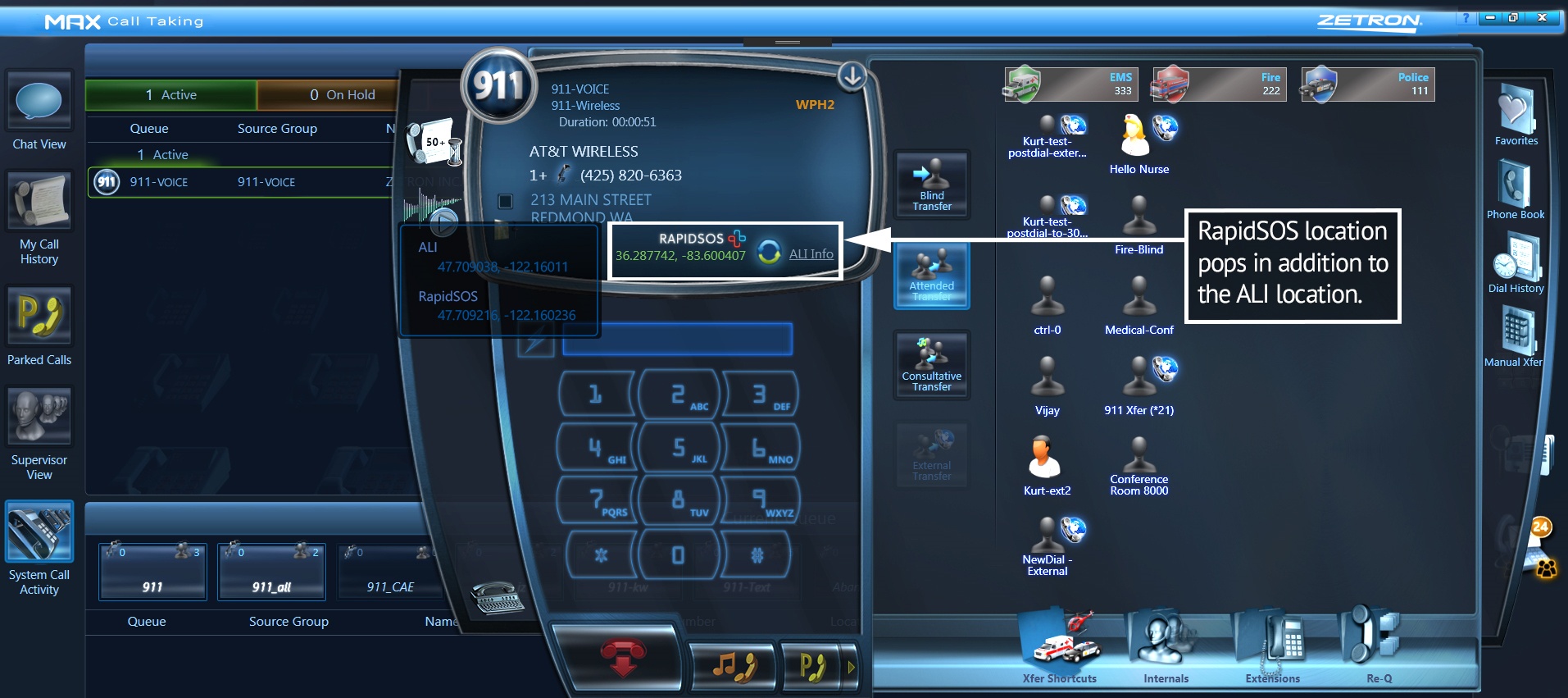 ---
Definitions
RapidSOS: RapidSOS, Inc., a provider of emergency communications services, located at 234 West 39th St, New York, NY 10018
Zetron: Zetron, a mission-critical communications systems provider based in Redmond, WA
Agency: A Public Safety Answering Point (PSAP), as defined in Section 20.3 of the rules of the Federal Communications Commission (FCC), requesting access to RapidSOS Emergency Information
RapidSOS Emergency Information: Information received by RapidSOS from RapidSOS Emergency Information Providers and provided by RapidSOS to Agency, including but not limited to supplemental 9-1-1 caller location data and profile data associated with a 9-1-1 caller
Credentials: Unique electronic credentials that allow Agency to access RapidSOS Emergency Information
RapidSOS Emergency Information Provider: Any person that provides RapidSOS Emergency Information to RapidSOS via wire or radio communications, including without limitation manufacturers of smartphones or other connected devices, operating systems service providers, application service providers, etc.
RapidSOS Emergency Information Terms of Use
Agency explicitly acknowledges that the RapidSOS Emergency Information is provided for informational purposes only and is supplemental to location data provided from other sources, and that RapidSOS Emergency Information should not replace other emergency location information and should not be exclusively relied upon in an emergency scenario. RapidSOS Emergency Information will only be used by Agency to respond to 9-1-1 emergency calls. Agency will not use the RapidSOS Emergency Information in any manner or for any purpose that violates any applicable local, state, national, or international law, any right of any person, or use the RapidSOS Emergency Information for any illegal, unauthorized or other improper purposes. Agency specifically authorizes RapidSOS, and each RapidSOS Emergency Information Provider, to provide the other emergency communications services contemplated herein to provision RapidSOS Emergency Information to Agency.
Agency acknowledges and agrees that RapidSOS may from time to time collect and analyze data arising from the use of the RapidSOS Emergency Information in order to facilitate delivery of the RapidSOS Emergency Information and improve RapidSOS's delivery of the RapidSOS Emergency Information and Agency's experience. RapidSOS shall not share this data with any third person except for the purposes of delivering the RapidSOS Emergency Information or to the extent required by a subpoena, court order, agency action, or any other legal or regulatory requirement.
Credentials to Access RapidSOS Emergency Information
Agency hereby requests a unique set of credentials assigned to Agency that will allow Agency to access RapidSOS Emergency Information. Agency acknowledges that Agency is responsible for proper safekeeping of those credentials, and will immediately notify RapidSOS electronically to psapsupport@rapidsos.com should these unique credentials ever get exposed to unauthorized personnel or otherwise compromised. For security reasons, RapidSOS reserves the right to disable credentials and re-issue new credentials at their sole discretion. In such case, Agency or Agency vendor will be notified by RapidSOS.