Webinar
Becoming RAY BAUM'S Act Compliant with RapidSOS Ready Solutions
The FCC's RAY BAUM'S Act requires that all multi-line telephone systems (MLTS) installed after February 2020 to be able to provide a dispatchable location for 911 calls by January 6, 2021. To comply with the dispatchable location requirement, these phones must be able to send address, floor, and room number or zone information to 911.
In this webinar, attendees will hear from experts about RapidSOS Ready solutions that local buildings can adopt to quickly become compliant with these new rules. Attendees will also have the opportunity to engage in a live Q&A with the speakers.
Note: This webinar is for 911 center officials only.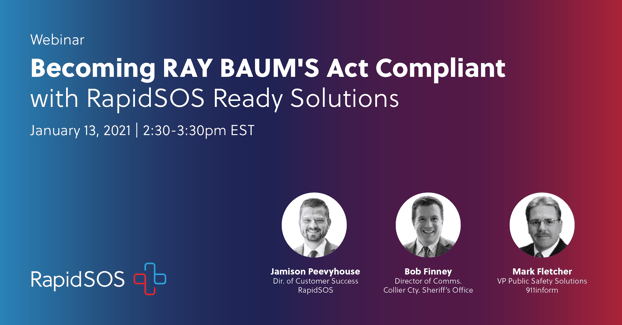 Speakers:
• Jamison Peevyhouse – Director of Customer Success, RapidSOS
• Bob Finney – Director of Communications, Collier County Sheriff's Office
• Mark Fletcher – VP of Public Safety Solutions, 911inform